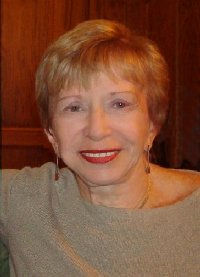 Sonia, while reading the book, noted errors and made suggestions on how to improve the book. Version 3.0 reflect these corrections and many of her suggestions.
Biography
Sonia was born in Berlin, Germany, of Polish Jewish parents in 1928. In July 1933, her family moved to Antwerp. In April 1934, they left Antwerp on the Red Star Line's S.S. Westernland and arrived in New York City on May 1, 1934.
Sonia graduated from high school in Monticello (New York) as valedictorian and then went on to Cornell University, from which she graduated, Phi Beta Kappa, in 1950.
In 1954, she began law school at the University of Miami, FL. In her final year of law school, recruiters from the U.S. Department of Justice came to the school, and she was accepted for their program for Honor Law Graduates. After graduating first in her class, Sonia,  had a twenty-three-year career with a number of federal agencies, including the National Labor Relations Board (NLRB), the Equal Employment Opportunity Commission (EEOC), and the Department of Housing & Urban Development (HUD).
In 1963, as a volunteer with the American Civil Liberties Union (ACLU), Sonia testified before the House of Representatives Committee on Education and Labor in favor of the Equal Pay Bill, which was subsequently passed. In October 1965, she joined the EEOC as the first woman lawyer in its Office of the General Counsel. A year later, frustrated with the Commission's failure to implement the gender discrimination prohibitions of the Act, Sonia joined Betty Friedan and forty-seven other men and women to form the National Organization for Women (NOW).
Pressured by NOW, the EEOC  began to seriously interpret rulings and make decisions concerning women's rights. Sonia drafted one of the Commission's earliest Digests of Legal Interpretations, its first Guidelines on Pregnancy and Childbirth, and the EEOC's first decision finding that airlines violated Title VII when they grounded or terminated stewardesses on marriage or reaching the age of thirty-two or thirty-five.
Sonia became a founder of WEAL (Women's Equity Action League) and FEW (Federally Employed Women) and a charter member of VFA (Veteran Feminists of America).
After leaving the Commission in 1973, Sonia worked for GTE Service Corporation in Stamford, Connecticut, and TRW Inc. in Cleveland, Ohio.
In 1990, surviving breast cancer, she became a board member of the American Cancer Society (ACS) for the District of Columbia, traveled to Israel and China to look into the diagnosis and treatment of breast cancer in those countries, and reported on her findings to ACS and in speeches.
Sonia has lectured and written extensively in this country and abroad on women's rights. Her testimony was presented to a Select Committee of the House of Lords when England was considering the passage of legislation prohibiting gender discrimination in employment, which legislation was subsequently passed. She was a consultant to the Women's Department and the Department of Labour for the Province of Ontario when Ontario was considering the passage of such legislation, which legislation was also subsequently passed.
Sonia traveled as an "American specialist" on women's rights for the then-US Information Agency (USIA) to France, Germany, Spain, Japan, the Philippines, Singapore, Thailand, and Indonesia, giving talks and meeting with women and representatives of labor, industry, academia, and the professions.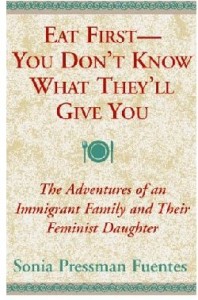 After retiring in 1993, Sonia wrote her memoir, Eat First–You Don't Know What They'll Give You, The Adventures of an Immigrant Family and Their Feminist Daughter, and moved to Sarasota, FL.
Sonia Pressman Fuentes embarked on new careers as a writer, public speaker, and community and feminist activist. Currently, she is a member of the Sarasota chapter of Americans United for Separation of Church and State, a member of the local chapter of NOW, a member of the program committee of the Congregation for Humanistic Judaism, and the first and only honorary member of the Sarasota chapter of the Florida Association of Women Lawyers.
In 1996 Veteran Feminist of America (VFA) Medal of Honor.
 June 2008 honored by the VFA as one of thirty-six feminist lawyers who made significant contributions to women's rights in the 1963-1975 time period.
In 2000, inducted into the Maryland Women's Hall of Fame
In 2000, included in the National Gallery of Prominent Refugees established by the UN High Commissioner for Refugees.
In 2000, Sonia was one of seventy-four women included by the Jewish Women's Archive in an online exhibit of Jewish American women who contributed to women's rights. (jwa.org/feminism).
In June of 2011, Sonia received an award from the National Organization for Women at their convention in Tampa, FL, for being a NOW founder.
For further information, please see Sonia's website.