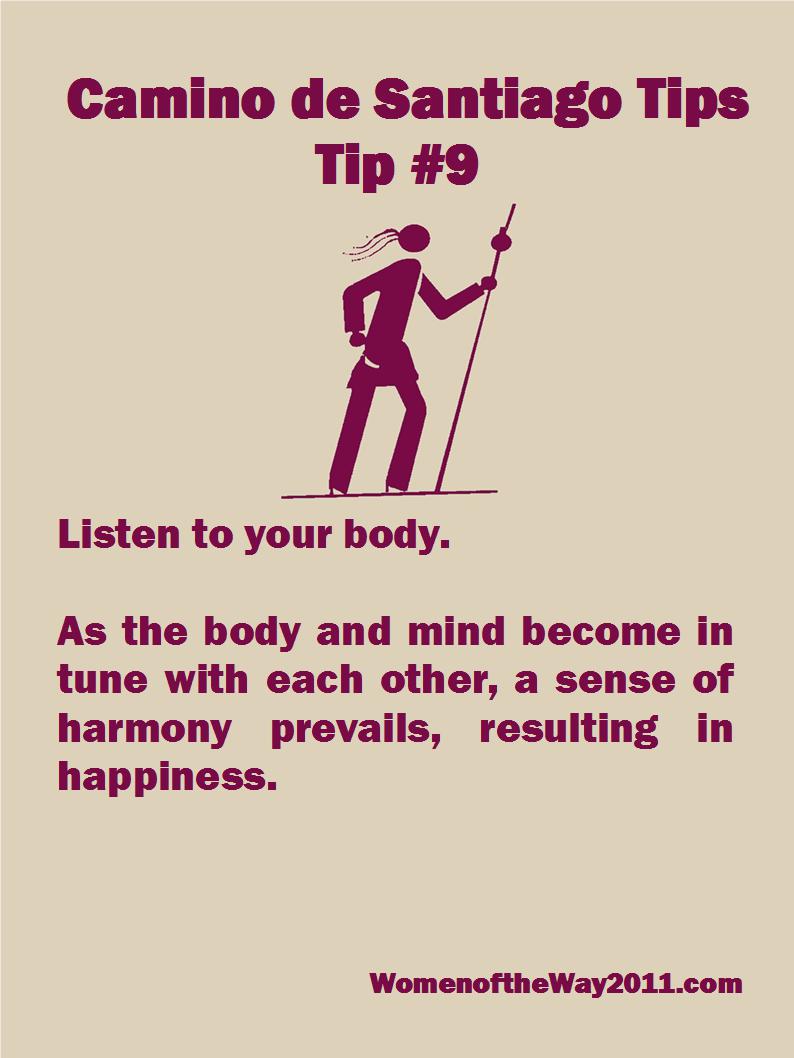 As a new pilgrim just starting out on the Camino de Santiago, listen to your body. Forget the ambitious mileage, forget keeping pace with walking companions, forget the "no pain, no gain" idea. Instead, be mindful of your body and what it has to tell you. If you are gasping for breath, slow down. If you are thirsty, drink. If you need a break, rest. Listening to your body will help you find balance, create a rhythm, and keep you in your comfort zone.
So how do you listen to your body? How do you decipher what the body is saying? Ask yourself, How do I feel? If you are feeling pain, attend to the cause of the pain. For example, if your feet feel hot, take off you shoes and cool them down. Doing so may prevent blisters. Achy muscles may require more water consumption (to remove the lactic acid buildup) and/or a slower pace until your body adjusts to the rigors of walking. Listening to your body, does not mean taking it easy on yourself; it means finding your physical limitations, not exceeding them.  By not ignoring your body's signals, you can prevent major injury.
Listening to your body does more than prevent injury. You become present. As you notice what is happening in your body, you start to notice your surroundings. In Women of the Way, Embracing the Camino, I wrote, "At this slower gait, I notice the individual stones, the shape of the leaves, and the clarity of the cerulean sky. The slower I go, the more I notice. I am not thinking of reaching the top or getting to the other side; I am happy doing what I am doing, climbing the Pyrenees on a sunny September day. As I get into my rhythm, the effort diminishes. It is still a difficult climb, but I am no longer gulping air or working so hard. As this transition happens, a peace flows into me. I am actually having fun!"
Listening to your body centers you. As the body and mind become in tune with each other, a sense of harmony prevails, resulting in happiness. This may be one of the greatest lessons of the Camino. Aligning the mind and body changes your spirit. If you are lucky, this new perception will continue long after you complete your walk to Santiago.
Do you listen to your body? What techniques have you developed to enhance listening to your body? Please comment.
Buen Camino,
Jane V. Blanchard