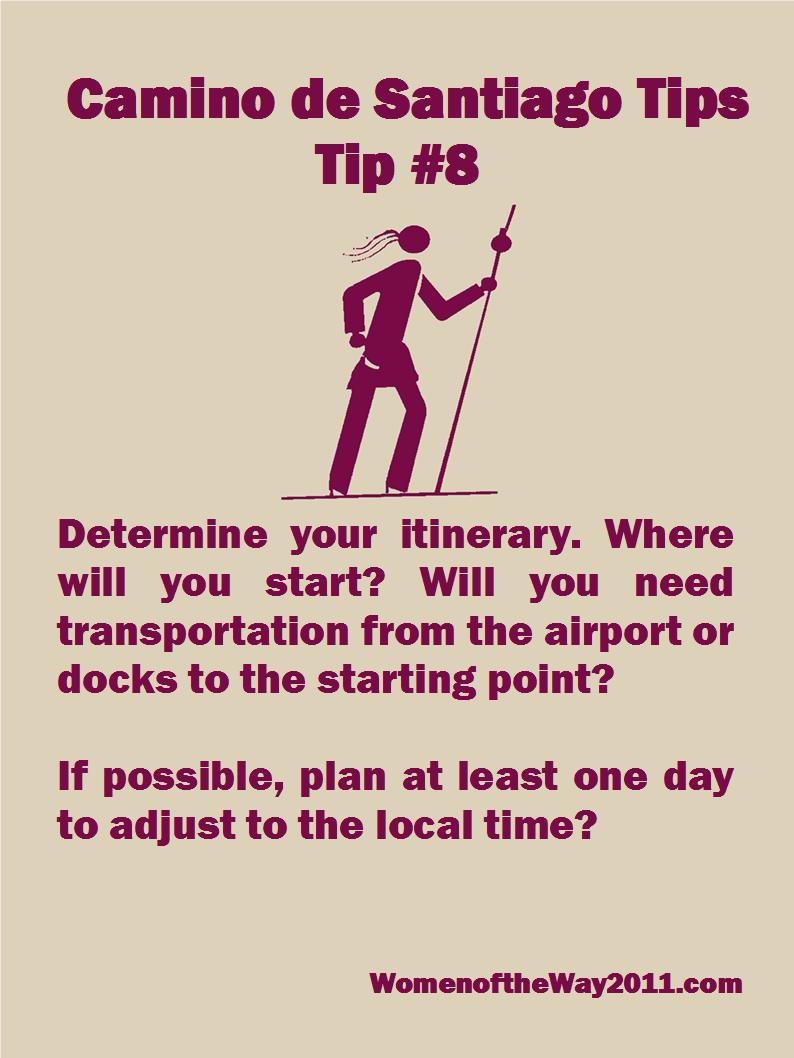 You've decided to walk the Camino de Santiago. Perhaps you have even chosen which Camino you will be walking. (See Camino Tip No. 3: Chose your route.) Whether you are a native Spaniard or a guest to the country, you need to arrange transportation to your starting point.
International Air Travel to Spain
Spain has many international airports. Consider arriving in one city and departing from another. Many of these cities are charming and have many tourists attractions. I loved visiting Barcelona on arrival, and spending a few days in Madrid before departing.
Madrid Barajas is 13 km (8 mi) outside of Madrid.  To get to the city, you can take a bus which departs the airport almost every ten minutes, the subway, or taxis.
Alicante Altet is 12km (7.5 mi) southwest of Madrid. From there, you can take a bus or taxi. You can get a special taxi fare to Valencia Airport.
Barcelona del Prat is 13 km (8 mi) southwest of Barcelona. You can take a bus from there Monday-Friday every 15 minutes; Saturdays every 30 minutes, and Sundays every 20 minutes. Trains to the city run every 30 minutes. Taxis are available at any time of day or night.
Bilbao Sondika is 11 km (6.8 mi) north of Bilbao. Buses, taxis, and trains run to Bilbao at most times of day and night.
Malaga AGP is 11 km (6.8 mi) southwest of the city. Buses run every 30 minutes. Trains run every 30 minutes. Taxis run at any time of day and night to any location in the city.
Santiago de Compostela is 10 km (6.2 mi) northeast of the city. Buses and taxis run at any time of day and night.
Seville SVQ is 12 km (7.5 mi) outside of the city. Buses and taxis run at any time of day and night into the city center and surrounding areas.
Valencia Manises is 10 km (6.2 mi) west of the city. Trains and buses run every 80 minutes and travel into the city center and surrounding areas.
International Ship Travel to Spain
Some may prefer to take a ship to Spain. While there are many ports and marinas on the Spanish coastline, the following list ranks the best Spanish Ports based on overall popularity. If you are lucky, you can get a repositioning cruise at about or less than the cost of flying to Spain. In additional to arriving rested, you may be able to take your bicycles without additional cost.
Barcelona

Alicante

Valencia

Santander

Málaga

Seville

Bilbao

Ibiza

Almería

Palma de Mallorca

Algeciras

Tarragona
International Rail travel to Spain
To travel to Spain from another European country, check the Eurail Pass and the Eurail Select pass. These passes provide options to travel through several bordering countries into Spain and are good for two months.
Traveling within Spain
Once you are in Spain, you can fly to a nearby local airport, take the train or bus, or rent a car. If you are fortunate enough to land at one of the cities that is the starting point for your Camino, you can take a taxi, local bus, or metro to the beginning, often the cathedral, and then just start walking. Most likely, you will need to take several modes of transportation to get to the starting point. For example, if starting in Roncesvalles or St-Jean-Pied-de-Port, you may have to take the train to Pamplona and then a bus or taxi, depending on the time of day. Taxis can be costly; if lucky, you can share the cost of the taxi with other pilgrims arriving on the train with you.
Trains: In Spain, there are many popular train routes between large cities, but The Renfe National Rail is the most famous. You can buy Renfe tickets prior to your departure, or at the station once you get there. If you are planning on having a sleeper compartment, you may wish to reserve the tickets. The Eurail Spain Pass allows you to travel by train trough Spain for a period of two months.
Beware that it can be difficult to find which train to book in northern Spain, where the rail service can get complicated. In addition to the cross-country trains, Renfe has suburban railways. In northern Spain, these can be found in Asturias, Bilbao, Santander and San Sebastian. Tickets for these must be purchased in person. There is also the slower commuter train service, FEVE. Prior to booking passage on these commuter trains, check the bus service; it might be faster. Note: you cannot use the Spain Rail passes on the FEVE trains.
The AVE (Alta Velocidad Española) High-Speed trains in Spain leave Madrid, Cordoba, and Seville with destinations for Albacete, Barcelona, Huesca, Malaga, Madrid, Seville, Valencia.
When planning your trip, check out How to get from City to City in Spain for route suggestions.
Buses: Traveling by bus can be a more convenient and cheaper way of travel; it may even be faster than train service. Most buses are air-conditioned coaches, very comfortable. More Spaniards use the bus system than the train system. It is affordable, efficient, and, often times, more direct than train service. You can purchase tickets at the train station the same day you plan your departure. For longer trips, you may want to book your ticket a day ahead, especially during the summer tourist season. The largest bus company is ALSA
Rental cars:
To drive in Spain requires an international driver's license; to rent a vehicle you must be at least 21. Rentals can be more expensive than alternate forms of transportation. Parking in the cities is limited. Traveling by car can also take longer than taking a bus or train, especially if taking the more scenic routes. For further information on the road system and traffic regulations in Spain, see Spain's Traffic Authority Dirección General de Tráfico
 My experience traveling in Spain.
My husband and I landed in Barcelona because I had always wanted to visit there. We took the bus into the city, which gave us an glimpse at the terrain. When departing, we took the metro to the Barcelona Sants train station, the train to Pamplona, and then the bus to Roncesvalles. As we walked from the train station to the bus station, about 2 km (1.6 miles), we espied our first pilgrims. What a thrill to know that soon we too would be walking on the Camino. During the three-hour layover, we visited Pamplona and lunched in a cafe.
After completing the Camino, we took the bus to Fisterra, returning several days later. I found the buses very comfortable and I was amazed at the driving skill of the drivers.
From Santiago, we took the overnight train to Madrid. If I were to do it again, I would book a sleeper train. From Madrid, we took the metro to the airport.
Overall, I was happy with the public transportation in Spain.
Have you plan your itinerary? Do you have recommendations for those planning their itineraries? Please leave a comment.
Buen Camino,
Jane V. Blanchard