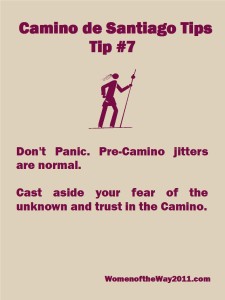 Hiking the Camino de Santiago for the first time can raise doubts. 'Can I walk 500 miles in a foreign country where I don't know the language, the customs, or what to expect?' For those setting out alone, fear of the unknown can lead to panic.
Excerpt from Chapter 1 of Women of the Way Embracing the Camino:
On one forum, I read that many people get the jitters about two months before leaving. One woman expresses her anxiety: "Exactly two months from now I will be standing in St-Jean-Pied-de-Port about to take my first steps towards Santiago. HOLY $#!&. I've been excited for months (in fact years), but now my heart is fluttering fast, my head is spinning, and my feet are cold. For the first time I've thought, 'Can I really do this? Am I crazy? Can my body handle this? Do I have everything I need? Do I have too much? Have I been saving enough money? Will my company be okay without me? Will it be even better without me? Will I be different when I come back? Do I want to be different?' I'm just a bit freaked out." This anxiousness is normal; many people become nervous prior to commencing on a momentous journey or new adventure. So far, I have not had these fears. I think my preparations, my research, my having been to Spain previously, and the fact that I am not going solo, all help build my confidence. Perhaps these self-doubts will come as I get closer to the departure date, but now I simply want to be on my way. I feel like I am at the beginning of a race, waiting for the sound of the start gun, confident that I am trained and ready.
Don't panic. Fear is a natural survival response that can be controlled. "The brave man is not he who does not feel afraid, but he who conquers that fear." ~ NELSON MANDELA, Autobiography. Cast aside your fear of the unknown and trust in the Camino. People have been walking the Camino for a millennium; you are walking in the footsteps of others that have proceeded you. Just like on the Camino, take it one step at a time. Learn to control the panic and have a buen Camino.
How to overcome the pre-Camino panic
Imagine yourself in Santiago with the Compostela, the certificate of completion in hand. Imagine how you will feel.
Think about the positive sides of the Camino, what this effort means to your and what you will accomplish. Don't dwell on your fears.
Think of all the new experiences: the food, the wine, the country with all its beauty.
Read books that discuss the wonders of the Camino, the joy experienced, the camaraderie.
Join pilgrim forums, hiking clubs, etc and speak with other pilgrims.
Do you have pre-Camino jitters? If so, what are you doing to overcome them? Please comment.
Buen Camino
Jane V. Blanchard