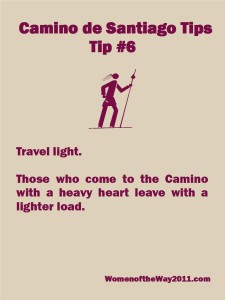 While on the Camino de Santiago, travel light. Base your pack weight on the ratio between the pack weight and the body weight. Many hikers advocate a 20% ratio. For example, if you weigh 125 pounds, according to this formula, the overall pack weight should max at 25 pounds. This may be a good guideline if you are hiking the Appalachian Trail, but totally unnecessary on the Camino de Santiago. I recommend no more that a fifteen percent ratio; less is better. Some pilgrims recommend ultralight backpacking.
For one thing, you don't have to carry a lot of food and drink. Except for the hike over the Pyrenees, you will walk through several villages each day where you can purchase refreshments, get drinking water, a meal, or anything you might have forgotten and need.
Since you are sleeping indoors, do you really need a sleeping bag? Most albergues (pilgrim's hostels) supply a mat or cot, sometimes with a pillow. Many pilgrims just carry a sleeping bag liner or a bed sack, instead of a sleeping bag. In the cooler months, many hostels supply blankets. Since I am a chilly willy and camped out 14% of the time, I carried a Mountain Hardware Ultralamina sleeping bag that weighed 1.5 lbs.
I recommend carrying two pairs of shoes: the hiking shoe and another lightweight pair for after the hike. This second shoe should be durable enough to hike in, should you have foot problems or in the heat of the Meseta.
Make sure that everything in your pack is multipurpose. You will be surprised by how much weight your can save by doing this. Dental floss can double as thread, duct tape as bandages, socks as gloves, shirt as a pillowcase. You get the idea.
Do you need all those toiletries? Can you use the same soap to wash your hair, body, and clothes? Do you need shaving cream, or will soap suffice?
Most albergues have a tub for hand washing clothes. Plan on two outfits, one for each other day. I recommend taking safety pins to hang clothes instead of clothespins. Some pilgrims sleep in the next day's outfit, thereby eliminating the need for carrying nightwear.
When calculating the pack weight, remember the weight of medicine, water, glasses, camera, the food you may buy, and all the things you stick in your pockets. Even though it may not be in your pack, it is weight that your body is carrying.
You may find the following Camino de Santiago de Compostela discussions helpful: backpack size, and my comprehensive and honest packing list!.
Buen Camino
Jane V. Blanchard