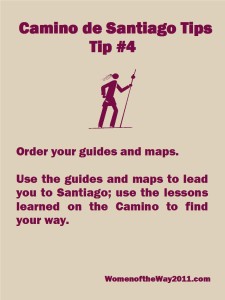 "We're all pilgrims on the same journey – but some pilgrims have better road maps." ~ Nelson DeMille
I started the Camino with the Pilgrim Guides to Spain: Camino Francés by the Confraternity of Saint James. Its goal is to "provide brief details of the route and of the sites of special historic or religious interest…that are found along the Way." It includes sleeping, shopping, and dinning suggestions, but it does not include a map. As a result, it was difficult to know where we were and whether to take a recommended side trip or continue forward. 
In Lagroño, a Scottish pilgrim gave us the Michelin Camino de Santiago map. This booklet is strictly an elevation and road map. With the map and the guide, we felt more confident in our decisions about alternative routes and each day's destination.
Even with the maps and guides, one needs to follow the waymarks. The more common ones are  the yellow arrow and the scallop shell. For the most part, these are obvious, though at times, finding the arrow can be challenging. You need to look on buildings, on curbs (which may be blocked by a vehicle), on poles, or trees, everywhere. When you are unable to find the waymarking and there is no one to ask, trust the Camino and make a choice. The worst that can happen is that you will walk a little further that day. Perhaps by going astray, you will find yourself.
Many pilgrims walk with smartphones that are GPS enabled. There are several apps available forthe Camino Francés. For more information, see the Camino de Santiago de Compostela forum discussion Download Camino to your GPS. The disadvantages of using only the GPS is not knowing what awaits you at the destination and what you are missing by not having a guidebook. At the moment, there is only one guide book in ebook format, and this is for someone bicycling the Camino. Hopefully, more guidebooks will be released as an ebook, eliminating the extra weight of carrying a paperback. There are a few apps that might interest someone of the Camino Francés
Purchasing your guidebook helps plan the trip
For my upcoming Camino Portugués in 2013, I purchased John Brierley's guide, which has detailed maps, cultural tidbits, and lodging and dining information. I am enjoying reading about what I will see on my journey and planning side trips. I did not do this on my first Camino and missed a lot, such as the Monastery in Samos. Ordering the guidebooks early, also helps build the anticipation for the trip and helps you make informed decisions about time, daily schedules, and not-to-be-missed sites.
For your convenience, I am listing the following maps and guide sources.
Do you have a favorite guide or map? If so, comment below on why you like it.
Buen Camino,
Jane V. Blanchard