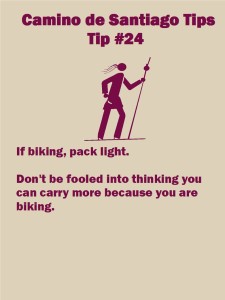 Packing light is good advice whether packing for hiking or biking. After one day on the Camino by bicycle, I realized how difficult it was to maneuver a fully-laden bike on busy city streets, on small cobble-stoned alleys, or up steep hills. At first chance, I mailed home a tall front pannier that might be handy when shopping in town, but not appropriate for touring. I packed the bag with a bike lock (deciding that one lock for two bikes was sufficient), a pair of shoes each for my husband and me, and a few other items deemed unnecessary, relieving us of 20 kg (44 lbs.). Since we are doing two Caminos: biking from Barcelona to Santiago, and then hiking from Lisbon, Portugal back to Santiago, we also shipped all our hiking paraphernalia to Santiago, reducing our load by an additional 14 kilos (30 lbs).
Now, the bikes are more manageable. Even though it still takes a lot effort to pedal uphill, I can make it to the top.
What to take on a biking Camino
In addition to biking clothes, rain gear, and evening wear, you need to pack tools. Take only what is necessary.
Bike clothes: (cold and warm weather)
2 pair riding pants
2 riding shirts
Bike gloves, short- and long-fingered
Ear covering
Helmet
Jacket
Socks
Sunglasses
Evening clothes:
Take what you like for walking around town and sleeping.  A light day pack is useful. Remember, everything has weights; choose wisely.
Rain gear:
Bike totes
Plastic bags to store clothes in
Rain jacket and pants
Tools and accessories
Bike multi-tool
Chain lubrication
Flashing rear light
Light (or attach headlamp to helmet)
Mirror
Panniers
Pump
Rag
Spare tubes
Spare brake pads
Tire tools
Water bottles