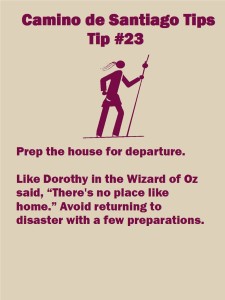 When you prepare for the Camino, don't forget to prep the house for when you are away. You don't want to return to a house damaged in your absence.
3 Weeks before Departure
Arrangements for house maintenance: lawn and garden care, snow removal, exterminator, air-conditioning service, etc.
Arrange for someone to keep an eye on your house. Leave them your itinerary and emergency contact information: electrician, plumber, maintenance service, air-condition or furnace services.
Arrange for someone to put up/take down hurricane shutters, as needed.
Contact the paper to establish a stop and restart date. Papers piled in the yard announce that you are away, inviting break-ins or worse.
Copy passports and other papers and leave with a trusted relative/friend.
Prepay or arrange for electronic payment for electric, water, cable, etc. You don't want services shut off while you are away.
2 Weeks before Departure
Complete a mail stop form (these are good for 30 days). If you are leaving for an extended amount of time, complete addition forms and have someone mail them to post office prior the end of the 30-day limit. Alternatively, complete a change-of-address form to have the mail delivered to a trusted relative/friend.
1 Week before Departure
Prepare the yard; mow the grass; trim the shrubbery especially around windows.
Check the air-conditioner, replace the filter and have filters on hand.
Clean downspouts and rain gutters.
Pick up things that high winds can throw around and damage the house. This is particularly important in tornado and hurricane zones.
Day of Departure
Add bleach to the toilets and cover with plastic wrap. This will prevent mildew (very important if you live in a hot, humid climate).
Lock all windows and doors.
Lower the water heater temperature setting, or turn it off.
Put out the trash.
Set the thermostat appropriately for your environment. Turn down the furnace – or turn up the air conditioner thermostat.
Set the light timers; these help discourage house break-ins.
Shut off water; you don't want to return to a flooded home caused by a broken pipe OR

If living in a cold clime, drain the pipes. If gone for only a short period of time, set the faucets to a trickle.
Shut off the water to the ice maker in the refrigerator.
Shut off the angle stops to the toilet. These are the turn valves on the wall behind the toilet.
Shut of the washing machine valves.

Stop the water processor.
Tape up water drains and overflow drains on sinks and showers to prevent bugs from entering the house.
Unplug TV and other appliances, lights, etc. Don't forget to unplug the electric stove. Unplugging it can prevent damage from electrical storms.