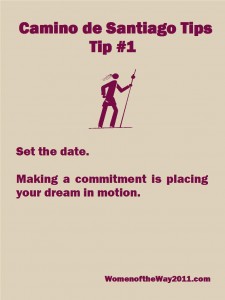 Many factors go into setting the date. When planning the starting date for a pilgrimage to Santiago de Compostela, consider the religious holidays, the weather, and the crowd.
Pilgrims hike the Camino de Santiago throughout the year. If you do not like the cold, eliminate choosing to hike during November through April. May and June are warmer, but many people walk the Camino during those months to arrive in Santiago on July 25, St. James' Feast Day, especially during a "holy year," when the 25th falls on a Sunday. 2010 was the most recent holy year and there was a swell of pilgrims flooding the Camino (more than 272,000 people received a certificate of completion that year). July and August are the hottest and most popular months, when most Europeans take vacations; consider the subsequent overcrowding on the roads, in restaurants, and hostels during this time. September and October are less crowded and the temperatures are mild, even though October can be rainy and mornings quite chilly.
How long does it take?
Although Jennifer Anderson ran the Camino Francés in 9 days, 5 hours and 29 minutes, most guide books divide the walk into 33 or 34 stages (etapas), ranging from 20 to 31 km (12 to 20 mi) per day. This time does not include days off, which I recommend adding into the schedule. It took me 43 days and I wish I had taken more time to visit various sites.
Must you follow the guide book's stages?
There is no need to follow the recommend stages. I recommend going slowly initially, and then increasing the mileage as the body adapts to the walking. For a few days after climbing the Pyrenees, I only traveled about 10 km (a little over 6 mi) but by the end of the Camino I was walking over 40 km (about 25 mi) a day.
Have you set your date? Tell us about it, leave a comment.
Buen Camino,
Jane V. Blanchard