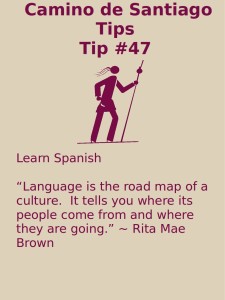 Learn enough Spanish to get around and understand the menus. Even if you mispronounce the words, your trying to speak their language will ingratiate you with the Spaniards.
Please (por favor), thank-you (gracias), good morning (buenas dias) are not difficult to learn. If necessary, carry a cheat sheet with you or a dictionary. Many phones, iPads, Kindles, and computers have dictionaries on them, some with pronunciation.
Carrying a dictionary for other languages may be helpful. People from all over the world walk the Camino. You will meet Italians, Frenchmen, Germans, and Asians. Having a way to communicate other than pantomimes and charades, makes the Camino more enjoyable.