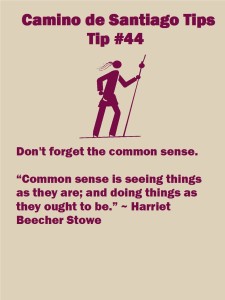 Common sense is sometimes defined as "sound judgement derived from experience rather than study." Since most of you have not experienced walking the Camino, I think this definition needs tweaking.
To make sound judgements, we need to base our "common sense" on similar experiences, personal or not, and listen to our intuition. Since childhood, we've heard the expression, "Don't talk to strangers." As we matured and realized that without talking to strangers we'd never meet friends, we started to build innate criteria for meeting people. Walking the Camino provides many opportunities for meeting people, making friends, and developing trust. This does not mean that you let your guard down and ignore your intuition. If your gut is telling you to be wary, listen to it.
The reality is not everyone can be trusted, even on the Camino. Living in the present and being connected to the Camino do not mean that we abandon all caution. Being present implies being attentive to all that goes on around us.
To be safe, watch your footing. Take care at intersections. Pay attention to the weather. Don't put yourself at risk any more than you would in places other than the Camino. Take care of your belongings. Don't leave your valuables (money, credit cards, passport, phone, etc) visible. Other's may not be able to resist the temptation. On my 2011 Camino, a pilgrim friend had her cell phone taken off the charger while she slept. If you don't want to take your valuables with you to the shower, ask a trusted friend to guard your belongings, and then exchange the favor.
Don't leave your backpack unattended in cafés, especially in the larger cities. In 2011, I was reminded of this by a gray-hair Spaniard who approached the outdoor table and recommended I move the pack from the chair next to me to under the table. Since she knew the area, I assumed there was a reason for her warning.  I now carry a small padlock to secure the backpack.
Walking the Camino is a fantastic experience, especially if you take along your common sense. It does not take much room nor is it heavy, but it can make the biggest difference.