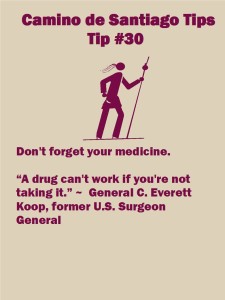 It is important to not disrupt a medical treatment while walking the Camino. A little bit of planning can eliminate most hassles of traveling with prescribed medication.
Even though traveling with medicine in original containers can be heavy or bulky, it is the best way to get the medication through airport security and customs. Once you arrive on the Camino, transfer your medicine to small plastic bags. When filling your prescriptions before departure, ask the pharmacy for a second printout or your Rx label to adhere to the bag, or enclose the tear-off section from the top of the prescription's data sheet in the plastic bag.
Prior to departure, contact your doctor
Tell your doctor that you are going to be walking in Spain for several months and that you will be exposed to the sun, farm and wild animals, and new flora. Ask the doctor:
If there are precautions that you should take with the medication you are currently taking.
If there are medications that you can eliminate or reduce dosage for the duration.
For a prescription for your current medications, along with the generic names. (If you loose your medicine, this may help you replace them.)
For a prescription for enough pills to last the length of your trip, plus a few "just in case"; you don't want to be out of your medication if there is a delay.
If you are traveling by plane, carry on your prescribed medications in the original containers. The Transportation Security Administration (TSA) does not restrict medications that are in liquid, aerosol or gel forms, but you should declare them for inspection. For more information see the TSA'sDisabilities and Medical Conditions.
Sedative, tranquilizer or narcotic pain medication
According to the U. S. Department of State Tips for Traveling Abroad, "Travelers should check with the foreign embassy of the country they are visiting to make sure any required medications are not considered to be illegal narcotics. (A listing of foreign embassies and consulates in the U.S. is available on Department of State's website. Foreign embassy and consulate contact information can also be found on the Country Specific Information for each country.)"
A letter from your doctor, on the doctor's stationery, stating why you need the drug may help get medication into Spain or back into the U.S.
OTC medications
There are farmacias in practically every village, some with limited hours. Decide if you want to carry over-the-counter medication as a precautionary, or purchase it as needed. You may want to consider the following:
Antibacterial ointments or cream for minor cuts, scrapes, or blisters
Anti-diarrhea medication for food-borne illnesses.
Antifungal ointment or cream for fungal infections, such as athlete's feet.
Antihistamine to treat an allergic reaction.
Anti-motion sickness medication.
Blister pads such as COMPEED®
A mild laxative or stool softener: Changes in your eating routine and access to different foods can cause constipation. You may want to take medication or buy ciruelas (prunes) available in most markets.
Pain and Fever relief, such as acetaminophen, or ibuprofen.
Other precautions
If you have allergies or a unique medical condition, consider wearing a medical alert bracelet.
If you wear glasses, take along a spare pair and/or the eyeglass prescription.