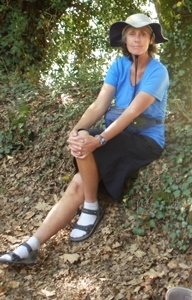 Jane V. Blanchard is the award-winning author of the "Woman on Her Way" series.
After retiring, Jane began hiking and bicycling ancient European routes or primitive wilderness trails and then writing about her adventures in the "Woman on Her Way" series. In her first book, "Women of the Way: Embracing the Camino," Jane mingles her personal story with conversations she had with modern-day female pilgrims who also trekked the Camino. In "Hadrian's Wall Path: Walking into History," Jane shares her discoveries along the 84-mile path across northern England.
When she married in 1974, her husband Dennis and she joked about creating a lifetime of memories to chat about when sitting in their rockers in old age. Now in her mid-60s, Jane is still creating memories, experiencing life as fully as possible, and looking forward to a long future. "I have to live long enough to write about all my adventures," she says.
In addition to having adventures, writing and publishing, Jane enjoys gardening, cooking, reading, and spending time with friends and family.
For more information on Jane V. Blanchard, check out her author's page.