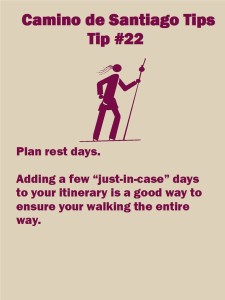 When planning the Camino, include days for little or no walking. This time off helps the body and spirit re-energize.
Before starting the Camino, plan at least one day to get over jet lag. Traveling overnight and loosing hours to time-zone changes is exhausting. The scheduled rest day can reduce danger for those who hike 12 to 14 hours over the Pyrenees.
Some pilgrims schedule time to visit large cities or places of interest; others plan just-in-case days—time for recovering from injury, replacing worn equipment, or whatever. Adding days off to your itinerary may mean the difference from walking the entire Camino or having to take a bus or train to compensate for days not hiked.
If you complete the Camino without using the scheduled days off, you may want to visit the Atlantic coastline. Muxia and Fistera are two popular pilgrim destinations after Santiago de Compostela. You can walk to these port towns in three days or take a bus, which runs daily.