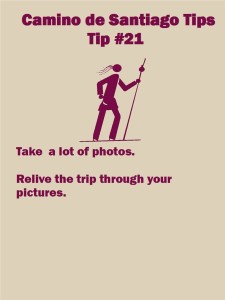 Taking pictures on the Camino is a wonderful way to rekindle the spirit of the Camino. Many of you are great photogs and may not need the following tips, many of which I learned after returning from the Camino.
Photo tips:
Don't forget to put yourself in some photos.
Take close-up facial shots with a nice background.
When coming into a town, take a picture of the town sign. Do the same when exiting. In Spain, most towns have a sign at either end.  This helps frame the location of the pictures.
Be mindful of the flash capability. Many phone and inexpensive cameras do not take ideal indoor pictures unless you are very close to the target.
Use a Joby Gorillapod to take pictures. It has flexible legs that attach to anything. Very useful when taking self-portraits or long time exposure when there is low light.
Upload often to the web; don't take a chance on losing your pictures.