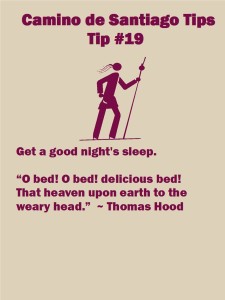 After a long day's walk, most pilgrims look forward to a restorative sleep. Unfortunately, sleeping in dormitory settings can make it difficult to get the needed rest. There are a few albergues that have semiprivate rooms, but the norm is for six to ten people per room, with some as many as fifty or more. Most always there are snorers, people getting up during the night, and bodies rustling in their sleeping bags. Some people leave before dawn, and noisily stow their sleeping bag and belongings into their backpack, almost guaranteeing that others, awakened by the noise or the flash from the headlamp, will rise to start their day.
Prepare the bed
Some albergues assign beds. If you need a bottom bunk or have other requirements such as being near a window, negotiate these with the hospitalero beforehand.
Prior to putting your bag on the bed, check for bedbugs. If there are any signs of bedbugs in the room, ask for a different room or don't stay in that albergue.
Some albergues provide a sheet and pillow case. If you are lucky to get a sheet, use it under your sleeping bag. When needed, I put the uncased pillow inside a shirt, others carry a travel pillow case that protects against bedbugs.
Do not put your backpack on the bed. Instead, claim the bed with your sleeping bag or another item.
Before sleep, hang your headlamp or flashlight so you can conveniently find it during the night.
Determine an emergency escape route.
To get a good night's sleep
Don't choose a bed close to the bathroom, it's always the noisiest.
Use blinders to keep out the light. I used a bandana.
Use noise-cancelling earplugs that fit your ears.
Avoid rich caffeinated drinks. The coffee in Spain is delicious, but if it prevents you from sleeping, refrain from drinking it.