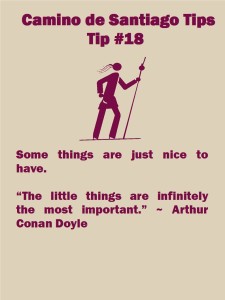 When planning the Camino, consider taking the following "non-essential" items. You may find that they make your Camino more pleasant.
A titanium spork (a combination spoon and fork utensil). I often bought tins of sardines, tuna, or yogurt for a picnic lunch. This lightweight utensil made eating easier and was better than plastic, which can break.
Ear plugs that fit your ears are are comfortable. Try them out before you leave. I had purchased foam plugs that did not stay in the ear and which were not very comfortable. For information on buying the best earplugs, see The Sound of Silence.
A bandana. This has many applications—a hand towel, a place mat, or eye cover, for example.
Clothespins. Be sure to put your name on them. Many albergues have clothes lines, but not the clothespins. To reduce weight, some pilgrims use safety pins. Since I did not want to put holes in my hiking clothes, I used clothespins.
Anti-diarrhea medicine…if you need it, you will be glad you carried it.
A comfortable head lamp with a high-lumen output and red LEDs (the red light is less prone to irritate sleeping pilgrims). Wear it for a while to see if it hurts your head.
Key chain light. I attached mine to my backpack to make it easy to look inside. Lindsey talks about why she carried a key chain light on here Camino.
Waterproof bags to keep things dry. You can use zippered freezer bags or hiker dry bags. I had both and was surprised that the zippered freezer bags lasted for the duration. For peace of mind though, I used the dry bags for electronics and things that I needed to keep dry.
A light daypack. These are great for in-town shopping or toting shower paraphernalia.
An adapter plug. While on the Camino, we also bought a three-way extension socket because many albergues only had one outlet per room. With the extension socket, several pilgrims could charge electronics.