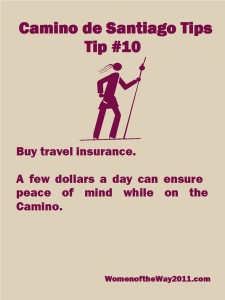 If you are a foreigner planning to walk the Camino de Santiago in Spain, consider purchasing travel insurance. There are many types of travel insurance; so compare coverage as well as price.
When you purchase your flight or cruise ticket, you may be asked about travel insurance. Before accepting it, check it out to be sure that it will cover more than trip cancellation, delays, and lost luggage. You may have to upgrade the policy or purchase additional insurance to cover medical emergencies and injuries. What would you do if, like in the movie The Way, your backpack were stolen? Content insurance can replace the total cost of your loss. Make sure you compare quotes to get that perfect policy. Many policies are for 30 days, be sure to get coverage for the entire trip; backpacker and long-stay trip travel insurance may be a better choice.
I recommend buying travel insurance, especially international travel medical and evacuation insurance. If you become ill or hurt, having this insurance not only helps to pay the bills, but may assist with transport to a hospital—or even home—and making all the arrangements for getting your treatment. This can be especially beneficial if you do not speak the local language or are unable to speak because of the injury.
Do not count on the kindness of doctors towards pilgrims. Though there is the belief that "The Camino provides," a prudent pilgrim can improve the odds by purchasing insurance. I believe this peace of mind is worth a few dollars a day; do you?
In the book, Women of the Way: Embracing the Camino, I wrote:
Additionally, travel insurance … will cover the cost of transporting your body back to the States or arranging for a burial or cremation in Spain, should the worst happen. The American Citizens Services Unit (ACSU) at the American Embassy can assist your family in making arrangements. It seems prudent to leave contact information to the ACSU and directives about your final wishes with your family or friends, or to carry a copy of your directives in your backpack.
If you are European, consider getting the European Health Insurance Card. The free EHIC simplifies accessing healthcare services for those EU travelers who fall ill or suffer an injury while traveling.
Picking the correct form of insurance may require research.  Check out Lonely Planet's travel insurance essentials. If you are an American, see Advice on when and when not to buy various coverages.
Buen Camino
Jane V. Blanchard