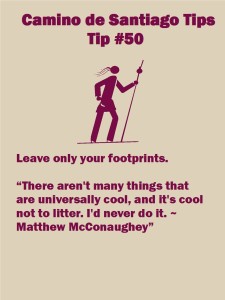 To make the Camino experience as meaningful to others as to yourself, deposit your trash in appropriate containers. In 2013, 215.880 pilgrims received the Compostela from the Pilgrims Office in Santiago. If each person littered once a day on the 30-day hike, more than two-thirds of a million trash items would clutter the Camino. Be kind to the Camino and the pilgrims who follow in your footsteps. Carry out your trash. To prevent confusion, the Spaniards color-code the public bins. Though the color code may change by region, for the most part
Green or gray bins are for general rubbish.
Yellow bins are for cans, milk and juice cartons, and plastic bottles.
Circular green bins are for glass bottles.
Blue bins are for paper and cardboard.
In some areas, there are RED bins for hazardous wastes, such as batteries, insecticides, aerosol cans.
If during your day's walk, you do not see bins, carry the trash to the albergue and dispose of it there. In similar fashion, carry out toilet paper, and waste, if possible. For more info on this topic, see Letters from Spain: Caga and the Camino.
As Woodsy Owl from our youth said. "Give a hoot. Don't pollute."