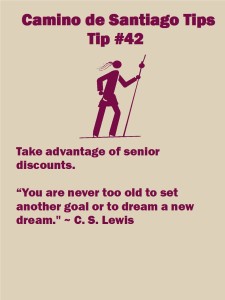 Spain treats its seniors to a variety of travel discounts. Be sure to take advantage of them.
Take advantage of the off-season lower rates in Spain. The off-peak program runs from mid-October to early April.
If over 60 years old, purchase the senior discount card (5.05 €) called the Gold Card "Tarjeta Dorada" ahead of time to receive the senior discount (40%) on Renfe. Be flexible because the discounted ticket may be limited to a few days per week. If you need to travel on days other than those discounted, buy your ticket on the web; they are cheaper than at the station.
Ask for a discount at bus stations. The rate of discount (between 20-60%) depends on the region in Spain. You can also get an additional discount by booking a round-trip ticket.
After age 65, the Spanish National Museums are free. At other museums, hotels, and paradors look for the word "mayor" for special rates, some are available to those age 55 or more. You many have to prove your age, so have your passport available.
Some restaurants offer a 10% discount, ask for the "descuento mayor."
Other tips for seniors
Get travel insurance with evacuation insurance. As a senior, you will pay more for this, but having to pay the medical bills out of pocket can be worse.
Take along an extra pair of glasses. Having to buy one in Spain may cost you in time and money.
Take your medication with you, in original containers. Ask your doctor before leaving for a list of your medications using the generic names. This will help replace lost medications.
Start off slow. As your body adjusts to walking with a backpack, you will gain speed and distance.