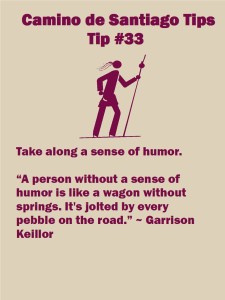 "Bring your sense of humor. It weighs nothing and can be a lifesaver if you find yourself confronted with the unexpected!" — J. Thompson
Traveling can be stressful. On the Camino, many travelers are not only dealing with unfamiliar customs and language but also with learning how to backpack, hike long distances each day, and the ins and outs of hostel living. With a sense of humor, bad situations become fodder for laughter. This, in turn, creates fond memories.
Having a sense of humor does not mean you have to be funny. It is more about being able to laugh at the absurdity of situations. Seeing the lighter side of difficult situations helps reduce stress and puts everything into perspective.
I was fortunate to have a hiking companion who saw the humor in most anything. As a result, we laughed all across Spain. Humor helped us face physical discomforts, frustration with Spanish customs, cold showers, the monotony of the pilgrim's menu–just about anything that, without looking at it from a lighter side, could have produced a negative impression on the Camino.
Resources