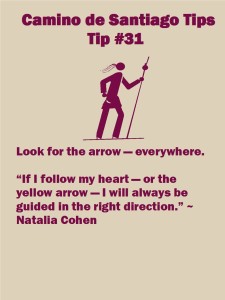 On the Camino, a yellow arrow marks the route. I found it assuring to see this marker, indicating that I was proceeding towards Santiago.
Most intersections are indicated. If you are paying attention, it is difficult to get lost. At times, finding the marker is challenging. The yellow arrow can be painted on a curb, with a truck parked in front of it; or on a signpost, the corner of a building, a stone, up high or down low. There seemingly is no logic governing arrow placement. For this reason, you need to be constantly vigilant in looking for them.
If in conversation or deep in thought, it is easy to miss the indicator. If this happens, just walk back to the last intersection and look around.
If you are walking with someone, finding the yellow arrow first can be a game.
To see examples of unusual arrow placement, click here.