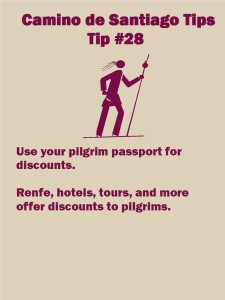 Various pilgrim-oriented establishments, such as hotels, transportation companies, and restaurants offer discounts to those who present the pilgrims passport (credential)…be sure to carry it with you to eating establishment and ask for the reduced fare. Hotels and hostels in cities not on the Camino may also provide a discount; it never hurts to ask.
Presenting the pilgrim passport at cathedral tours or museums can provide substantial savings.
Renfe offers a  20% discount for all AVE–Larga Distancia trains. Ask if the offer is compatible with other trains.
Note: If you are over 60, consider purchasing a Tarjeta Dorada which cost 5.15 E and is good for one year. With this ticket, you can receive a 40% discount on Mondays, Tuesdays, Wednesdays and Thursdays; on Fridays, Saturdays and Sundays the discount is 25% for tickets that have not been bought in advance and with a reserved seat.