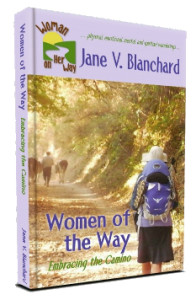 Thank you for visiting the Women of the Way: Embracing the Camino Webpage.
I created this webpage not only to showcase the book but also to offer advice about planning your trip, tips for the Camino, reviews about Camino Books, references, and lots more. I hope you find the page helpful. If you have specific questions, please
A gift for you
As a thank-you for visiting the page, I am including a recipe for the famous Tarta de Santiago, a delicious, gluten-free almond cake decorated with the Cross of Saint James. This traditional Spanish dessert originated in the Middle Ages. I first ate it in Santiago de Compostela, after completing the Camino Francés. Ever since, the Tarta has become part of our annual Remember-the-Camino celebration and is frequently requested for holidays and birthdays. ¡Que aproveche!
Tarta de Santiago Recipe and Stencil
Please sign up for an occasional email to stay informed about updates and changes.